Vought XF8U-3 Crusader III Video - XF8U-3 Super Crusader III
Vought XF8U-3 Crusader III Aircraft Information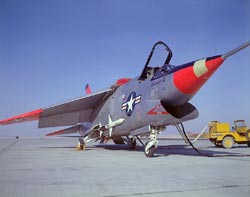 Picture - A view of the XF8U-3's chin inlet shows it to be drastically different from its predecessor, the F-8 Crusader.
Role: Fighter aircraft
Manufacturer: Chance Vought
First flight: 2 June 1958
Status: Retired
Primary users: United States Navy NASA
Number built: 5
Developed from: F-8 Crusader

The Vought XF8U-3 Crusader III was an aircraft developed by Chance Vought as a successor to the successful F-8 Crusader program and as a competitor to the F-4 Phantom II. Though based in spirit on the F8U-1 and F8U-2, and sharing the older aircraft's designation in the old Navy system, the two aircraft shared few parts.
Design and development
In parallel with the F8U-1s and -2s, the Crusader design team was also working on a larger aircraft with even greater performance, internally designated as the V-401. Although externally similar to the Crusader and sharing with it such design elements as the variable incidence wing, the new fighter was larger and was powered by the Pratt & Whitney J75-P-5A engine generating 29,500 lbf; (131 kN) of afterburning thrust. To deal with Mach 2+ flight conditions it was fitted with large vertical ventral fins under the tail which rotated to the horizontal position for landing. To ensure sufficient performance, Vought made provisions for a Rocketdyne XLF-40 liquid-fueled rocket motor with 8,000 lbf (35.6 kN) of thrust in addition to the turbojet. Avionics included the AN/AWG-7 fire control computer, AN/APG-74 radar, and AN/ASQ-19 datalink. The system was expected to simultaneously track six and fire at two targets.
Due to extensive changes as compared to the F8U-1, the F8U-2 was labeled by some as the "Crusader II", and as a result, the XF8U-3 was officially labeled "Crusader III."
Operational history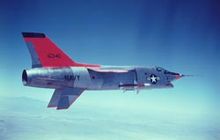 Picture - Unlike the F-8 Crusader, the F8U-3 featured ventral fins, shown here in deployed form.
The XF8U-3 first flew on 2 June 1958. During testing, the aircraft reached Mach 2.6 at 35,000 ft (10,670 m). Vought projected a top speed of Mach 2.9, though the windscreen and most aluminum airframes were not designed to withstand the heat of such speeds. In December 1955, the US Navy declared a competition for a Mach 2+ fleet defense interceptor. Fly-offs against the Crusader III's main competitor, the future F-4 Phantom II, demonstrated that the Vought design had a definite advantage in maneuverability. However, the solitary pilot in the XF8U-3 was easily overwhelmed with the workload required to fly the intercept and fire Sparrows which required constant radar illumination from the firing aircraft, while the Phantom II had a dedicated radar intercept officer on-board. In addition, with the perception that the age of the guns was over, the Phantom's considerably larger payload and the ability to perform air-to-ground as well as air-to-air missions, trumped Vought's fast but single-purposed fighter. For similar reasons, the Phantom would replace the Navy's F-8 Crusader as the primary daylight air superiority fighter in the Vietnam conflict, although it was originally introduced as a missile-armed interceptor to complement day fighters like the Crusader.
The F8U-3 program was canceled with five aircraft built. Three aircraft flew during the test program, and were transferred to NASA for atmospheric testing, as the Crusader III was capable of flying above 95% of the Earth's atmosphere. NASA pilots flying at NAS Patuxent River routinely intercepted and defeated U.S. Navy Phantom IIs in mock dogfights, until complaints from the Navy put an end to the harassment.
All of the Crusader IIIs were later scrapped.
Operators
United States

United States Navy
NASA

Specifications
Data from The Great Book of Fighters, American Fighter Aircraft, and MiG Master
General characteristics
Crew: 1 pilot
Length: 58 ft 8 in (17.88 m)
Wingspan: 39 ft 11 in (12.16 m)
Height: 16 ft 4 in (4.98 m)
Wing area: 450 ft² (41.8 m²)
Empty weight: 21,860 lb (9,915 kg)
Loaded weight: 32,320 lb (14,660 kg)
Max takeoff weight: 38,770 lb (17,590 kg)
Powerplant: 1x— Pratt & Whitney J75-P-5A afterburning turbojet
Dry thrust: 16,500 lbf (73.4 kN)
Thrust with afterburner: 29,500 lbf (131.2 kN)
* Fuel capacity: 2,000 US gal (7,700 l)

Performance
Maximum speed: 2.9 Mach (estimated) at 50,000 ft (15,000 m)
Cruise speed: 500 kn (575 mph, 925 km/h)
Range: 560 nmi, (645 mi, 1,040 km) with external fuel
Ferry range: 1,777 NM (2,045 mi, 3,290 km)
Service ceiling: 60,000 ft (18,300 m)
Rate of climb: 32,500 ft/min (165 m/s)
Wing loading: 72 lb/ft² (350 kg/m²)
Thrust/weight: 0.74

Armament
Guns: 4 x— 20 mm (0.79 in) Colt Mk 12 cannon (planned; never installed)
Missiles:
3 x— AIM-7 Sparrow radar-guided missiles
4 x— AIM-9 Sidewinder missiles (planned for production)

Avionics
Raytheon Aero 1B weapons control system, including:
Autotechnicas AN/AWG-7 missile control system
AN/APQ-50 radar (planned for production)

Related development
F-8 Crusader
A-7 Corsair II

Comparable aircraft
F-4 Phantom II
Grumman XF12F

Living Warbirds: The best warbirds DVD series.
Source: WikiPedia